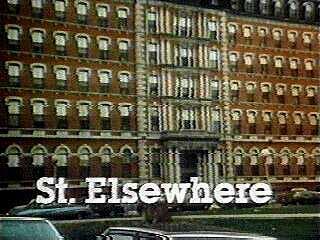 Joshua Harris guest stars as Donnie Westphall Age 6
St. Elsewhere was a serial hospital drama that first aired on NBC in 1982, running for six seasons and 137 episodes until 1988. The series was made by MTM Enterprises, which also made Hill Street Blues, a show with which St. Elsewhere is often compared.
The series was set in a decaying urban teaching hospital called St. Eligius, in Boston's South End neighborhood (said at the time to be based on Boston City Hospital, now Boston University Medical Center), and took its name from the hospital's nickname. The hospital served patients not wanted by the more prestigious institutions. As a medical drama, St. Elsewhere dealt with serious issues of life and death, though episodes also included a substantial amount of black comedy.
The series had a large ensemble cast, a "realistic" visual style, and a profusion of interlocking stories, and could be regarded as something of a serial for its ongoing storylines that continued over the course of many episodes. Its influence can be seen in more recent medical series such as ER. The series was well regarded by critics, and received numerous Emmys during its six-season run and, while it was never a ratings blockbuster, did respectably well in terms of viewership. (The series was said to have been a favorite of then NBC chief Brandon Tartikoff, which may have had something to do with its being renewed each season.)
St. Elsewhere is also noted for helping to launch the careers of a number of then little-known actors, who have gone onto much greater fame, including Denzel Washington, Alfre Woodard and Mark Harmon.